Top 10 best Thai movies 2018 (romantic comedy, horror, fantasy …)
Here is our Top 10 best Thai movies 2018 – all of these movies have been praised and rated highly in Thailand; for you to indulge during your spare time.
Brother of the Year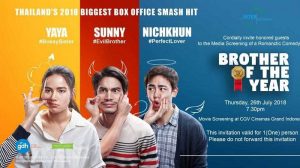 Brother of the Year – best romantic comedy Thai movie 2018, which has already proved a huge commercial hit in Thailand, is that rare blockbuster that doesn't hesitate to sideline its romcom materials to centre on an extreme – though admittedly not that unusual – case of sibling rivalry. Unlike 'Bad Genius', 'Brother of the Year' doesn't have a high-concept premise, but it is also precisely that which makes the back-and-forth between Chut and Jane real and relatable. Although the film, directed by Witthaya Thongyooyong (My Girl), has been marketed primarily as a comedy, it is the intense emotions involved in the love-hate relationship that will stay with the viewers long after their laughs die down. There is no language or cultural barrier to its themes, story and sentiment, so get ready to laugh, cry and be moved by one of the best thai movies 2018 films you'll see this year.
Manta Ray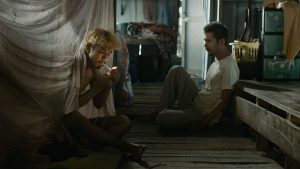 Manta Ray is a story in a coastal village of Thailand, by the sea where thousands of Rohingya refugees have drowned, a local fisherman finds an injured man lying unconscious in the forest. He rescues the stranger, who does not speak a word, offers him his friendship and names him Thongchai. But when the fisherman suddenly disappears at sea, Thongchai slowly begins to take over his friend's life – his house, his job and his ex-wife.The movie is visually stunning and has a great 'flow' to it. Although it is a slow movie you will never found it dull. The way the director makes the Thai city come to life was a real pleasure. Manta Ray had a number of successes along the festival circuit, winning awards at the Venice Film Festival and the Cairo International Film Festival.
2,215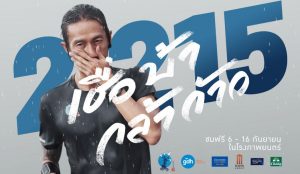 A documentary based on true story of thai singer named "Artiwara Kongmalai", who dedicates himself to long-running from Betong, Yala district, South of Thailand to Mae sai, Chiang Rai, North of Thailand. It takes 2 215 kilometres which is documentary's name and 55 days from the first november 2017 to the end. He tries to collect money devoted by Thailand's people as much as possible in order to help several hospitals to import medicals equipments needed, which is the purpose of this long-running event. Long distance running is a challenge at the best of times and seeing this incredible achievement up close and personal makes it all the more special. With a good focus and a simplistic approach, 2215 is a heartwarming running documentary, one that hammers home the message of never giving up and fighting for your dreams no matter what.
Reside
Soon after a mysterious-ritual ceremony has been performed in a house, there are several chilling and inexplicable events happening which allegedly relate to haunting-spirit possession influencing house members into violence.
BNK48: Girls Don't Cry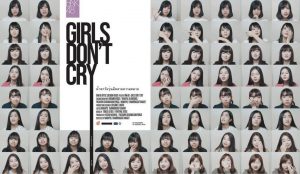 This is one of the best Thai movies 2018 ever made. A documentary about a Thai idol girl group, BNK48 originally adapting from a Japanese idol girl group, AKB48 open opportunity to ordinary teens to be selected into a controlled system and competitive concept. No matter what anyone thinks about the whole concept, though, the fact remains that "BNK48" is a thorough and quite entertaining documentary, and a must-watch for anyone in interested in the analysis of cultural/social phenomenon.
7 Days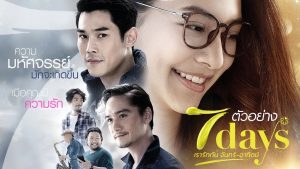 Have you ever wanted to live a day in someone else's life? What if you did that every day? This is the premise of 7 Days. Miracle may happen only once in a lifetime, what if miracles happen every day for 7 days. Tan woke up in other person's body, seven days in a row. When he first woke up he can not remember who he is and couldn't even remember his girlfriend, Meen.Tan had to find a way to get back to his body and convince Meen on who he actually is. Would the bitter sweet journey to retell their path of love and experiences put them together again? Check out 7 Days
Viral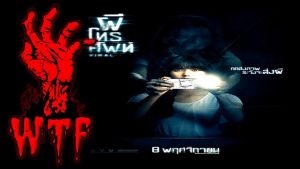 Viral is really an updated version of The Ring, but minus the finesse and scares. In the midst of playing an augmented game called Ghost Hunt, Tang (Ploy Sornarin) captures a spirit photo and excitedly shares it with her friends. One by one, they start seeing the female ghost in their environment.
Homestay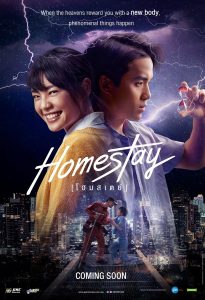 When "Temporary Body" is a wonderful award from heaven. Min has 100 days to change his life. Homestay was based on the Japanese novel Colorful, but we can't help but think that the Chinese film Beautiful Accident may have also inspired the story. While other critics gave the film mixed reviews, we believe that Homestay is a good reminder for us to value our time on earth and treasure those around us. Homestay impressively combine movie genres: fantasy, horror, thriller, romantic, drama and comedy with the unusual plot and some outrageous twists will certain leave its viewers entertained. This is a movie that deserves to be one of the best thailand movies 2018
App War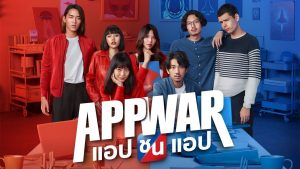 This Thai romantic comedy begins with two perfect strangers – Bom (Nat Kitcharit) and June (Warisara Yu) – who meet during a tech exhibition where they are pitching their individual companies' latest digital apps. Though they both fail at attracting investors, they discover they have much in common, such as their love for Indian food and laser tag. That chance meeting sparks an idea, and they go back to their teams and develop their own app – Bom's is called Inviter, and June's is called Amjoin – based on the idea of finding people who have something in common with the users. The movie does feel a bit draggy, and at 130 minutes long, it could have done with a bit of trimming. Nonetheless, it is a refreshing story set in the world of app developers and how we sometimes need to look beyond our own egos.
Bike Man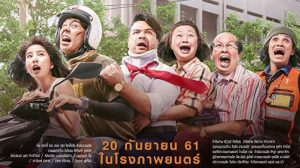 "Sakkarin" is a 25 year old guy who could not find a job as his mother wishes him to be a banker. To take care and make the family happy, he has to lie by wearing the bank uniform out of the house every morning before turns to his true self and his real job as a motorbike taxi man. But, secrets don't exist in this world when he meets his high school crush "Jai", a real life banker, "A" Jai's boyfriend and a bank director, and "Uncle Preecha", an ex-cop friend of his father who always has an eye on him.