What Do We Need To Know About Marvel's Eternals?
Marvel's Eternals is set to bring the MCU into the world of mythology. We examined everything we know about Eternals to determine if it will contain the next Groot or, perhaps, something more mysterious.
THE PREMISE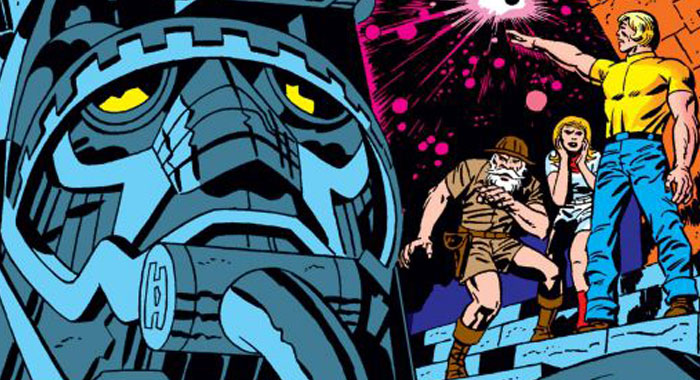 As one of Kirby's final projects before his he parted ways with Marvel Comics for keeps, The Eternals continues themes Kirby worked on throughout the 1970s in books like DC Comics' New Gods: the origins of myths and the power of ancient beings. Debuting in 1976's The Eternals #1, the comic book focused on a race of humans engineered by the alien Celestials to protect the Earth. Of course, things did not go as planned, and life on Earth developed along different lines. Nevertheless, the Eternals remained to protect the planet from the Deviants, Celestial experiments that also did not evolve quite as expected.
The Eternals are themselves long-lived and have developed many advanced technologies; primary reasons why they stay in the shadows, let humans solve their own problems, and focus on more interstellar threats. But this philosophy was not embraced by all members of the race, and a civil war broke out that eventually led to the Eternals being able to store cosmic energy in their own bodies and use it in a variety of ways. There is also some business about a faction founding a colony on Saturn's moon, Titan, but that couldn't possibly matter to the film's story, right?
In the modern-day, most Eternals carry on private conflicts away from the eyes of the public or act as superheroes to obscure their real intent; which makes sense for a group of Marvel characters who rarely enjoy the privilege of their own comic book. As it happens, Kirby's version of the title ended after just two years. The title would return either as planned miniseries or short runs in the 1980s and 2000s. Neil Gaiman wrote one such miniseries in 2006.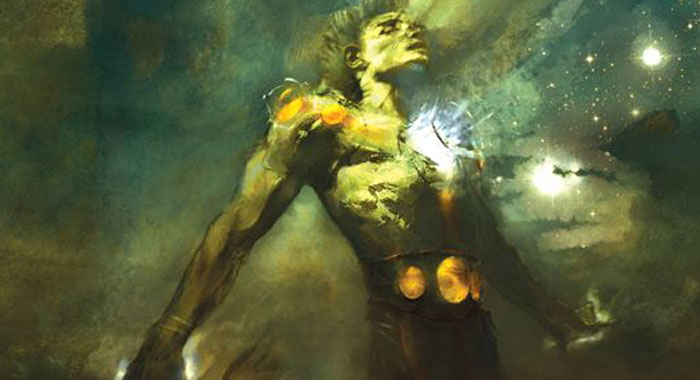 Despite rarely enjoying the starring role, the Eternals quickly became a favorite of writers and artists who followed in Kirby's wake. Various members of the original cast worked their way into books like Thor, and their backstory continued to deepen. Gaiman's miniseries, for example, recast prominent Eternals like Ikaris and Thena (more on them in a moment) as millions of years old instead of the tens of thousands the Kirby original suggested. He also introduced the idea that the Eternals suffered from a collective amnesia about their origins and lived as conventional humans until circumstances forced them to remember their old lives.
And though partial amnesia would explain their absence from recent battles, a teaser released in May suggests the Eternals will be in full possession of their powers and memories as the story begins. According to Marvel, the film will focus on the Eternals – who have lived on planet Earth in secret for the last 7,000 years – renewing their conflict with the Deviants sometime after the missing human population returned from the Blip. The preview even goes so far as to mention the Eternals never interfered in human affairs until this new crisis, which means they actively chose not be part of recent events – a choice they will have to explain.
MEET YOUR ETERNALS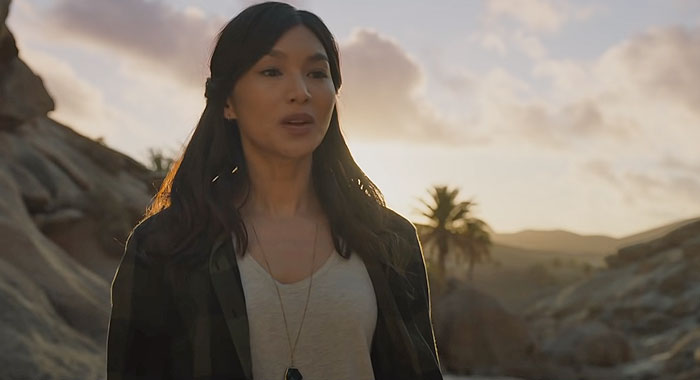 To play these quasi-mythic characters, Marvel assembled a surprising roster of actors. Leading the pack is Gemma Chan as Sersi. Though she reportedly masquerades as a museum curator, she is really an Eternal with the ability to manipulate matter. In early discussions about the film, Feige said Sersi is the starring character, though it is unclear if this is still the case in the finished film.
Angelina Jolie also appears as Thena, a warrior who uses her abilities with cosmic energy to fashion weapons. From the few glimpses Marvel has offered of the film so far, we're inclined to believe she'll be in full possession of her memories and talents. If the film uses Gaiman's memory loss idea, it may be her job to get the others ready for battle against the Deviants. Or, as some reports note she is in exile from the main Eternal group, she could serve an antagonistic function.
Richard Madden is Ikaris, a tactical genius and, back in the comics, a frequent guest star in other titles. Although Marvel is offering us a mere 7,000 years of Eternal history, we'd believe he's millions of years old as Gaiman suggested.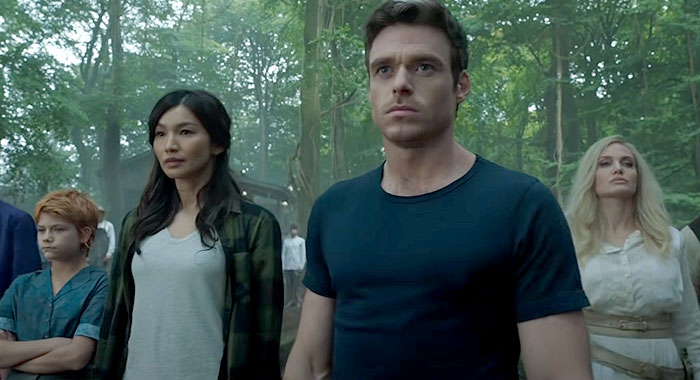 Other Eternals include Kumail Nanjiani as Kingo, a Bollywood star whose fame-seeking life suggests he may not be aware that he is an Eternal; Lauren Ridloff as super-fast scout Makkari, Brian Tyree Henry as Phastos, an inventor with a tendency to break the Eternals' non-intervention edict; Haaz Sleiman as Phastos's husband; Barry Keoghan as Druig, whose ability to manipulate minds and distance from the others suggests he may also be a possible antagonist; Lia McHugh as Sprite, an illusion-generating Eternal who only looks twelve-years-old and may be the source of any potential memory loss among the group; Don Lee as Gilgamesh, who can project an exoskeleton and whose name conjures up a very direct connection to ancient human myths; and Salma Hayek as Ajak, the leader of the Eternals, who can also speak with the Celestials, suggesting some of Kirby's most out-there character designs may be featured in the film. At least, we hope some authentic Kirby weirdness will appear.
Additionally, Kit Harington plays Dane Whitman, a human man who may or may not become Marvel Comics' Black Knight over the course of the film.
BEHIND THE ETERNALS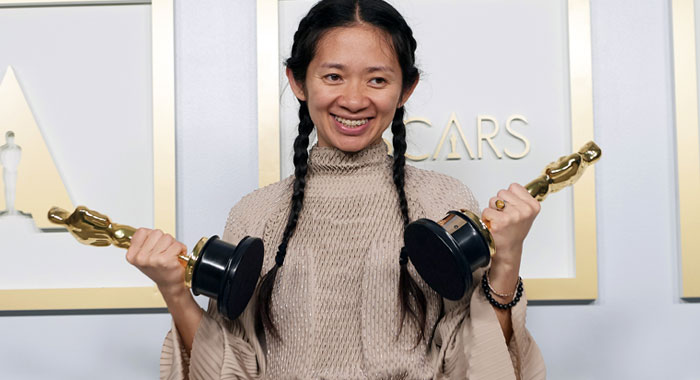 On the filmmaking side of things, Chloé Zhao serves as director. Long before her Oscar-winning film Nomadland became the talk of Hollywood, her acclaimed sophomore film The Rider, her presentation to Marvel Studios, and her visual aesthetics reportedly wowed Feige. Indeed, the executive became the butt of jokes in recent weeks as he continued to praise Zhao's use of natural landscapes to create both scope and intimacy without green screens or visual effects. But in the few moments we've seen of the film, those qualities definitely appear to be on display.
On scripting duties are Kaz and Ryan Firpo, who've been with the project since 2018. Although the pair has few credits, Kaz has won awards for Refuge, his documentary on the Syrian Refugee Crisis, and a short film. Zhao also took an as-yet uncredited pass at the script.
Other people on the crew include cinematographer Ben Davis – a five-time Marvel veteran who shot Guardians of the Galaxy, Avengers: Age of Ultron, Doctor Strange, and Captain Marvel before Eternals – and editors Dylan Tichenor (Zero Dark Thirty) and Craig Wood (both Guardians films and Ant-Man and the Wasp). Providing the film's score is Game of Thrones' Ramin Djawadi, who seems like a fitting choice – and not just because two actors from that series are in the film. Like Thrones, the Eternals concept contains a sense of closely-knit cultures, family politics, and an inscrutable enemy on the horizon.
THE IMPLICATIONS OF ETERNALS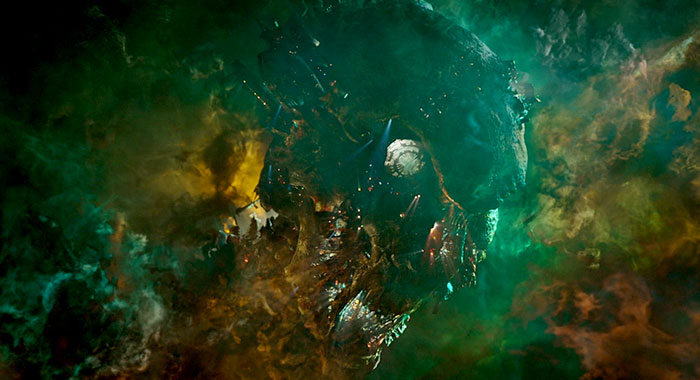 As names like "Ikaris," "Gilgamesh," and "Sersi" imply, the notion that the Eternals have been on Earth all along will have far-reaching effects on the MCU. If the resolution of the film means they have to reveal themselves to the superhero community, then there's the expectation for them to, at least, be on call in the future. It is also easy to imagine resentment could bubble up from their unwillingness to lend aid during the Battle of New York or the invasion of Wakanda. Well, provided, of course, that they haven't been mindwiped for the last century or so.
It is also possible Nick Fury (Samuel L. Jackson) knew about them and specifically chose not to approach them; maybe he and Phastos had an understanding.
Meanwhile, deepening the presence of their creators, the Celestials, in MCU lore could point to a threat worthy of a grand Avengers assemblage in Phase Five or Phase Six. The Guardians did face off against Kurt Russell's Ego, who identified himself as a Celestial even though that wasn't necessarily true of his character in the comics, in Vol. 2 and defeated him. But it's anyone's guess how even this group of active heroes and Eternals are supposed to confront an impossibly powerful Celestial like Ziran the Tester without the aid of a partial Celestial like Star-Lord (Chris Pratt).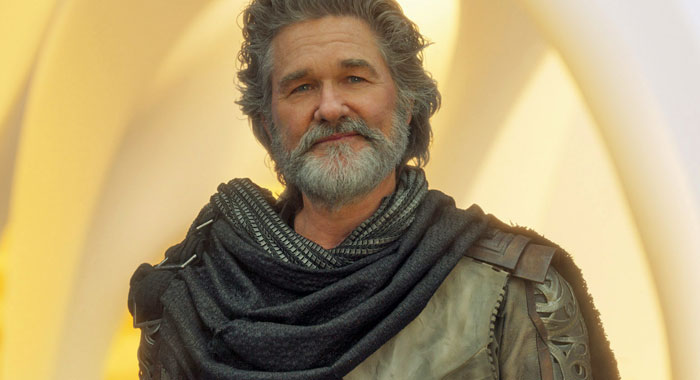 Also, looking back on the allusions to Mesopotamian and Greek mythology, establishing a superpower presence in antiquity opens up other settings for future films, namely the past beyond World War II. Imagine an MCU-set Western or something more resembling a fantasy epic in which the Eternals fight Apocalypse during his time as a pharaoh in Egypt – a very similar story already exists in the annuls of Marvel Comics history. Granted, Marvel Studios prefers its films to be contemporary, but these characters' long lives do offer new possibilities.
Of course, this is all mere speculation. Job one of Eternals is to make Sersi and the rest bankable characters, like Groot and Rocket before them. And while we're unsure any of the them will become the smash commercial icons those characters became, we expect at least one Eternal will be a welcome sight the next time the Avengers plan a pancake breakfast or defense of the planet.
DELAYED JUST A YEAR
Like Black Widow before it, Eternals was planned for release in 2020 — November 6, 2020 to be exact — but experienced some of the sliding calendar woes both Black Widow and Shang-Chi and the Legend of the Ten Rings faced as the pandemic significantly altered theatrical exhibition. For the moment, Eternals is set for release on November 5, almost exactly a year after its original date.
Thanks for reading!
Access Viva TV now to update the best new movie and show releases.