What are the best anime movies 2018 to watch? That depends on your personal taste, but those listed below are all well-animated, entertaining, and otherwise a great viewing experience… Here's our ranking of the 10 good anime to watch.
Top 10 best high school movies 2018 – Good movies for teenagers

Which are the best Bollywood romantic movies 2018?

Top 10 best Thai movies 2018 (romantic comedy, horror, fantasy …)
Dragon Ball Super: Broly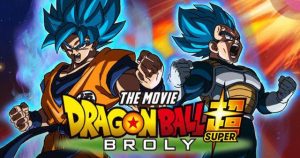 This is the best anime 2018 for every Dragon Ball lovers. A planet destroyed, a powerful race decreased to nothing. After the destruction of Planet Vegeta, three Saiyans were scattered among the stars, destined for different fates. While two found a home on Earth, the third was raised with a burning desire for vengeance and developed an unbelievable power. And the time for revenge has come. The movie is a masterpiece in terms of animation, storyline, old characters reintroduced, music. Obviously, this is an anime you must watch in 2018.
Mirai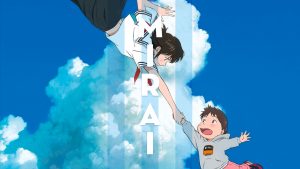 Mirai is a gentle family comedy of manners, which really takes off at the film's final reels. This movie follows a 4-year old boy who is struggling to cope with jealousy around the arrival of a little sister, Mirai. One day, a mysterious group of people, including the teenage version of his sister Mirai, appear. What follows is a magical story of time travel, family history, and bonds between siblings. This is definitely a good anime to watch 2018 you can not ignore.
Liz and the Blue Bird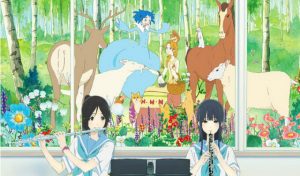 If you want a film that gives you tons of action, an incredibly complex story, or a dark tale, this isn't an option for you. However, if you're in the mood for a stunning character piece that tells a simple but superb story than this is the best anime to watch for you. The movie is set in the same high school and the same universe as Sound Euphonium, and features the same orchestra director/music teacher. But this time, Yamada tells a different story of these music students. Liz and the Bluebird" is a lovely little coming of age story – this anime will be well remembered as one of the best anime movies 2018 Japan.
Boku no Hero Academia the Movie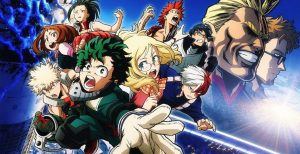 If you are just starting to enjoy anime, then this is one of the best anime movies 2018 to start with. The story takes place between the second and third season of My Hero Academia, as Deku and All Might travel to the moving city, "I" Island, and must fight a villain who has taken the entire island hostage with the help of Deku's classmates. Boku no Hero Academia the Movie is A great addition to a beloved anime. This will be talked about for years to come.
Maquia: When the promised flower blooms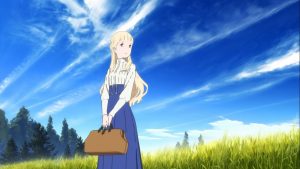 A masterful creation of what is a mother's love, Maquia: When the Promised Flower Blooms shows the beauty of love and pain as the young mother tries to protect her child from the dangers of the world. Almost everything about this film is perfect, from the well-defined characters and the compelling plot to the beautiful animation and soundtrack. No matter how you love or how you hate anime, you must watch this anime movie. Why? Because you can learn many life lessons from this anime – the best anime to watch in 2018.
Flavors of Youth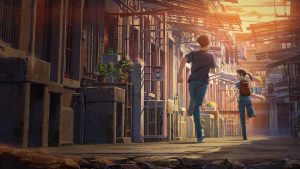 It's all about the little things that make the difference in our lives. The film is told in three chapters. Chapter one, "The Rice Noodles," focuses on a young man with a nostalgic fondness for noodle soup in Beijing. Chapter two, "A Little Fashion Show", is about two sisters, one a fashion model and one a fashion designer, the former of whom's career gets in the way of their time together. Chapter three, "Love in Shanghai", concerns a young architect regretting not confessing his true feelings to a girl he knew in his childhood. Something can always be learned from life stories, and this trio of short stories has something for everyone.
Detective Conan: Zero The Enforcer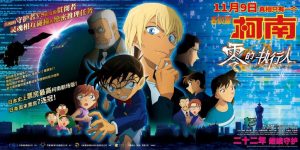 The 22nd movie in the renowned Detective Conan series earned $12.1 million in the Japanese box office and earned the number one spot. In fact, it's actually the best anime movies 2018 you must watch. This movie is sure an amazing masterpiece. Compared to past movies, this movie had depth. It is not only about deduction, mystery, or love but also showed us what Amuro, the man filled with secrets, was willing to abandon his life for.
Here is a list of best anime movies 2018. Wishing you have a good time with Viva TV