Top 5 Jackie Chan's best movies – the greatest Jackie Chan movie list of all times
An international star in the truest sense, Jackie Chan has appeared in more than 100 films over the last 30-plus years — and even in today's hyper-hyphenated Hollywood, Chan has amassed a dizzying array of credits, serving as an actor, director, choreographer, screenwriter, and stuntman. In honor of his career, we decided to take a look back at Jackie's previous live-action adventures and celebrate the critical highlights, Total Recall style!  Just follow this list of top 5 Jackie Chan's best movies – the greatest Jackie Chan movie list of all times. 
Armour of God II: Operation Condor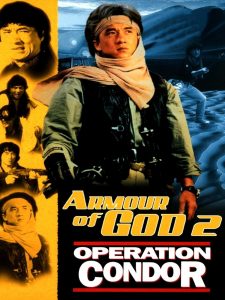 Armour of God II: Operation Condor is a 1991 Hong Kong action-comedy film written and directed by Jackie Chan, who also starred in the film. It is the sequel to 1986's Armour of God. Two years after the final pre-Crystal Skull installment of the Indiana Jones films arrived in theaters, Chan was jumping on the adventurer/explorer bandwagon with this wonderful piece of movie mimicry. At the time, it was one of the most expensive Hong Kong movies ever made. Chan said in his biography that the film cost HK $115 million, or US $15 million, the most expensive Hong Kong film at the time. In its Hong Kong theatrical release, this film grossed HK$39,048,711. It was Hong Kong's second highest-grossing film of 1991. On 1,523 North American screens on its opening weekend, it grossed US$4,731,751 ($3,088 per screen), on track to a US$10,405,394 final gross. Taking the character of Asian Hawk and turning him into more of a comedic figure would be the way in which Chan expanded his global reach, realizing that humor could help bring people to his otherwise over the top and carefully choreographed fight films – and it's obviously worked.
Wheels on Meals
Wheels on Meals is a 1984 Hong Kong martial arts action-comedy film, written and directed by Sammo Hung, with action directed by Jackie Chan. The film stars Jackie Chan, Sammo Hung, Yuen Biao, Lola Forner, Benny Urquidez and José Sancho. The film was shot in Barcelona, Spain. Chan, along with director/writer/fight coordinator/actor Sammo Hung and Yuen Biao, all met at the Peking Opera, where they studied martial arts and acrobatics. They then began making movies, including this hilarious romp involving a food truck, a mysterious woman, and lots of physical shtick. While some prefer their other collaborations (Project A, Lucky Stars), this is their most unabashedly silly and fun. Hung remains one of the most underrated directors in all of the genre. During its Hong Kong theatrical run, Wheels on Meals grossed HK$21,465,013[7] (US$2,745,589), becoming the fifth highest-grossing film of the year in Hong Kong.
Rumble in the Bronx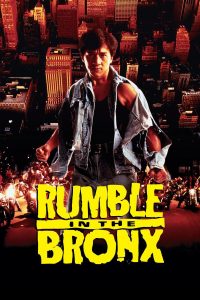 This is one of the Jackie Chan's best movies. Rumble in the Bronx is a 1995 Hong Kong martial arts film starring Jackie Chan, Anita Mui and Françoise Yip. It was directed by Stanley Tong, with action choreographed by Chan and Tong. Released in Hong Kong in 1995, Rumble in the Bronx had a successful worldwide theater run, and brought Chan into the North American mainstream. The film is set in the Bronx area of New York City, but was filmed in and around Vancouver, Canada. The film grossed US$76 million worldwide (approximately $140 million adjusted for inflation), against a $7.5 million budget, making it one of the most profitable films at the time. Jackie Chan got his big break in the States with Rumble in the Bronx, the 1995 Hong Kong hit that arrived in American theaters the following year with the prophetic tagline "No Fear. No Stuntman. No Equal."
The Medallion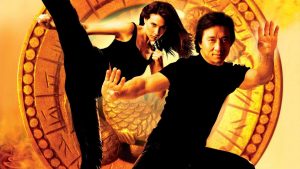 The Medallion is a 2003 action comedy film co-written and directed by the Hong Kong film director Gordon Chan, and starring Jackie Chan, Lee Evans, Claire Forlani, and Julian Sands A police officer comes across a boy with a mysterious medallion, and after saving his life, he's imbued with powers through the artifact. However, he also finds out a whole lot of other people are also behind the same thing, prompting a supernaturally charged battle. It's far more reliant on special effects than any other Jackie Chan movie, but The Medallion still benefits from having the lead actor's charming persona. It also helps that he has a great rapport with his costars, who band together to bring a good mix of sci-fi and comedy.
The Karate Kid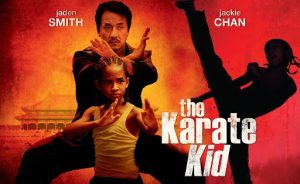 Which Jackie Chan movie is the best? The Karate Kid is the good choice for you.  It is a 2010 martial arts drama film directed by Harald Zwart, and part of The Karate Kid series. It stars Jaden Smith and Jackie Chan in lead roles. The plot concerns 12-year-old Dre Parker (Jaden Smith) from Detroit, Michigan who moves to Beijing, China with his mother (Taraji P. Henson) and runs afoul of the neighborhood bully.  He makes an unlikely ally in the form of an aging maintenance man, Mr. Han (Jackie Chan), a kung fu master who teaches him the secrets of self-defense. The screenplay by Christopher Murphey was from the story written by Robert Mark Kamen for the original The Karate Kid. Unlike the original, this remake is set in China, and features Kung Fu instead of Japanese-Okinawan Karate. The film's music was composed by James Horner. It is an international co-production between China, Hong Kong, and the United States. The Karate Kid was released theatrically worldwide on June 11, 2010, by Sony Pictures. The film earned $359 million on a $40 million budget.
Here is a list of Top 5 Jackie Chan's best movies. Just add all of them to your Jackie Chan best movies – imdb list. Join Viva and enjoy it with your friends and family.